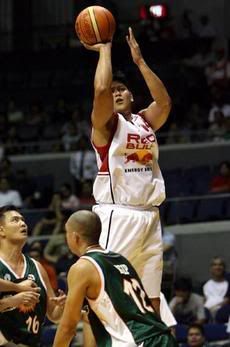 Adducul now has a chance to play in the spotlight, away from the shadows of Danny Ildefonso and Dorian Pena, and look to finally live up to his billing as RP basketball's next important big man. He has been a big disappointment in his 4-year stint in the league thus far. He requested for a trade as he was not getting the playing time he expected when he was dealt from Ginebra.
If there is one coach who can help Adducul realize his goals, it is Yeng Guiao. Guiao is responsible for the ascension of Villanueva to one of pro league's elite big men and he is doing the same to Carlo Sharma.
Villanueva will now be reunited with his ex-Ateneo teammates at San Miguel: LA Tenorio and Wesley Gonzales. Olsen Racela is also an Ateneo alum, just as head coach Chot Reyes. Expect Larry Fonacier, Rich Alvarez and Paolo Bugia to follow suit (if the price is right). It looks like the Beermen are building their own Ateneo line up. With a high draft pick in the 2007 draft, the Beermen are said to be eyeing another Ateneo alum JC Intal.
Villanueva was released from the RTL to make the deal work. The RTL aims to prevent league-wide lopsided deals, limiting trades to teams' only marquee names. He will be replaced by Mick Pennisi on the list.
Adducul will immediately plunged into action starting in Red Bull's next game while the Beermen await Villanueva who is still fresh from a stint in the SEABA cagefest in Thailand.
Note: According to an SMC insider, Red Bull is undergoing some sort of "financial crisis". They may look to peddle their highly-paid cagers for draft picks, lower-salaried players, and cash considerations. Adducul, according to info, would not stay long with Red Bull and would likely be dealt soon (Purefoods?)